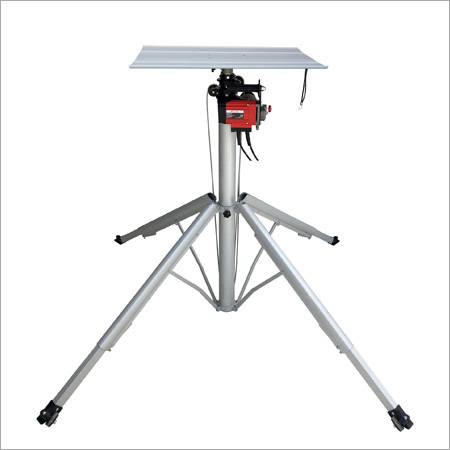 LF517 Portable Scissor Platform
Product Description
Use our LF517 Portable Scissor Platform which has smooth functioning, smart design, high lifting capacity and long working life. It is made from premium quality of steel structure, and stainless steel table. Moreover, its whole body is painted with premium quality material to make sure great resistance to corrosion in any working condition. Its smooth functioning helps us to lift item from specific height. The offered product has wide platform, that makes sure the safe lifting of the goods. It is ideal for, transporting and lifting heavy loads in warehouses. To make sure portability, the LF517 Portable Scissor Platform is well fitted with solid duty two pair of castors.

Key Features of LF517 Portable Scissor Platform:

The characteristics of portable lifts are as follows:

The body
◦ Lightweight aluminum alloy steel body: safe and reliable.
◦ The lightest, smallest lifter that can be carried by a single person.
Tripod
◦ Double-layer expansion and contraction, the length of the tripod can be adjusted at any time with the working space, and it is not limited by the height or unevenness of the terrain.
◦ The tripod with cylinder has a total of five points that stand on the ground and a high stability.
◦ The top panel can be settled close to the wall surface, with quick release bolts on both feet, allowing the feet to close together and the top panel to stay close to the wall.
◦ The external tripods special shaped design makes it more durable.
◦ The bending design of the foot bracket makes the tripod more compact and does not occupy space when being folded.
◦ The dragging wheel with drag handle makes it light, fast, and force saving.
With overload automatic tripping device, if the carrying weight exceeds the load capacity set by the machine, the trip device will be activated. At this time, the motor is idle and the body cannot continue to rise. The weight must be reduced and the operation can be resumed.
With Wrench for power failure and emergency stop device.
Up and down speed can be adjusted by step less speed changer.

Specification of LF517 LFD Portable Lifter:
| | |
| --- | --- |
| Model: | LF-517 |
| Weight/Mast: | 28.5kg |
| Weight/Platform: | 4.5kg |
| Dimension/Platform: | 75 X 45cm |
| Load Capacity: | >4m: 90kg / <4m: 130kg / <3m: 150kg |
| Basic Height: | 126/134cm |
| Lifting Height: | 487/495cm |
| Dimension/Stow: | 25 X 27 X 123/131cm |
| Dimension/Operate: | 143x 138cm |
Trade Information
Taichung Harbor

60 Per Month